Mobile LED Billboard & Displays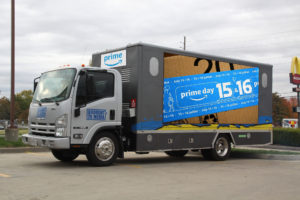 What Billboards Wish
They Could Be
Advertising delivered to where your customers live, work, and play. On the road, your location. or better yet in your competitors neighborhood. Mobile LED Billboards take your message to your consumers like no other marketing.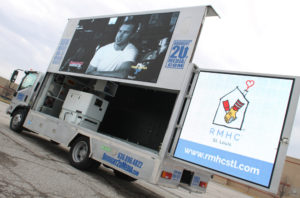 Total Event
Experience
We bring parties and festivals to life. Giant high definition video screens towering fifteen feet over your crowd with pulsating high quality audio.  This is the perfect parade vehicle if you want to make a big impression.

On the road or parked on location, impress your customers with dynamic visuals. Showcase your brand and message. A unique marketing tool that delivers results for you.
Rolling Advertising
Your message is prominently shown all over the Metro STL area daily. Vehicle tracked by GPS showing you when and where your message is being seen.
Exclusive Rental
Your messages running exclusively on all four screens.
You control when and where the vehicle and your
message is seen.
On-Site & Events
Four large screens with brilliant sight and sound. With main screens that measure 12'x5.5′ and can be raised on hydraulic lifts 15′ in the air. Your guests canwatch live TV events, recorded messaging, listen to music, and even play video games. The screens do all this while showcasing sponsors, advertising, and special messaging. Turn your event into a special occasion